Black History Month- February
2020 AEBS African-Canadian Speakers and Resources
The Farm's Funny of the Week: TIP OF THE WEEK:
ROAD SAFETY!
PLEASE SLOW DOWN WHEN DROPPING YOUR CHILDREN OFF AT SCHOOL IN THE KISS AND RIDE LOOP!
PLEASE OBEY ALL SIGNS! A STOP SIGN MEANS COME TO A COMPLETE STOP PLEASE!
(If you don't stop, you can be fined $400 to $2,000 and get six demerit points for a first offence. If you are convicted a second time within five years, the penalty is a fine of $1,000 to $4,000 and six demerit points. You could also go to jail for up to six months ontario.ca)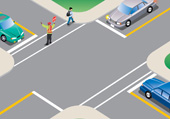 PLEASE ENSURE THAT YOU OBEY AND FOLLOW THE RULES OF THE CROSSING GUARDS!
Where a school-crossing guard displays a red and white stop sign, you must stop before reaching the crossing and remain stopped until all people, including the school crossing guard, have cleared the entire roadway and it is safe to proceed.
Drivers who don't follow the stopping requirements may receive a substantial fine and get three demerit points.
Our children's safety is paramount! Let's make our school roads safer for everyone! Do your part, slow down and follow all the rules of the road.
Thank you,
Beckett Farm Staff
This Week at the Farm:
February 24-28- Kreative in Dance Styles Workshops Primary (Grades K-3)
February 26- National Pink Shirt Day
**Students will be able to purchase a Pink Shirt Day Beckett Farm T-shirt for $15 at morning recess in front of the office on Tuesday, February 25 and Wednesday, February 26. Limited quantities!
February 26- Grade 8 Graduation Trip Information Evening for Families @6:30PM
Looking Ahead at the Farm:
March 2-6- Kreative in Dance Styles Workshops Junior/Intermediate (Grades 4-8)
March 4- Primary Firefighters Presentation
March 11- Scientists in School Grade 2s
March 11- Family Yoga Night @6:30PM (details to follow)
March 16-20- MARCH BREAK, NO SCHOOL
A Closer Look
Dear Families,
Please remember to sign your child(ren) up on Cash On Line for the Kreative In Dance Styles workshops happening in the next couple of weeks. The deadline to pay is February 24, 2020. The workshop is $7.00/child.
大家好,谨在提醒您,我们学生的舞蹈工作坊即将举行。如果您还没有注册您的孩子,请通过学校现金在线注册。付款是$ 7.00
2020 FOCUS: LIFT EACH OTHER UP
"Take your kindness to new heights! This Pink Shirt Day, and every day, let's Lift Each Other Up.
Our theme for this year's Pink Shirt Day is "Lift each other up"; a simple but powerful message encouraging us to look beyond our differences and celebrate the things that make us unique. When we lift each other up, we see past the things that separate us and see instead the things that unite us as people."
Pink Shirt Day is a globally recognized day in support of anti-bullying, upstanding behaviour and simple acts of kindness. On February 26, 2020, we are encouraged to practice kindness and wear pink (or a shade of red) to show that we do not tolerate bullying.
**Students will be able to purchase a Pink Shirt Day Beckett Farm T-shirt for $15 at morning recess in front of the office on Tuesday, February 25 and Wednesday, February 26. Limited quantities!
In honour of Pink Shirt Day, YRDSB Caring and Safe Schools is looking to celebrate the everyday upstanders, those students who stand up to bullying and/or exemplify kindness in their schools.
Grade 8 Graduation Trip Parent Information Night- February 26
Dear Grade 8 families,
Please join us on February 26th from 6:30-7:30 PM in the Learning Commons for an information night regarding the Grade 8 Graduation Trip. This will be an opportunity for you to receive more detailed information about the trip as the tour company will be there to present these details and itinerary. It will also be an opportunity for you to ask any questions you may have. We hope to see you there.
Administration
Frozen Treats for Sale on Cash Online!
Frozen treats are sold each week on Fridays at morning recess! The cost of each frozen treat is $2. Flavours include: chocolate ice cream, vanilla frozen yogurt, orange sorbet, blue raspberry sorbet, and lime sherbert. Families can pre-purchase Frozen Treats using Cash Online for the months of March and April.
*Last day to pre-order treats in Wednesday, February 26th.
Community Events
1) Parents For Children's Mental Health
2) Alliance of Educators for Black Students
BlackHistoryMonthPosterContest
3) York Region Alliance of African Canadian
Communities (YRAACC)
Sankofa Mentoring Program for youth between the ages of 12 and 18
The Sankofa Mentoring Program is rooted in an African Rites of Passage
framework that highlights the principles of Unity, Self-Determination,
Collective Work and Responsibility, Cooperative Economics, Purpose,
Creativity, Faith and Self-Respect.
York Region African Canadian Communities Sankofa Mentoring Program Flyer
4) Fatoumata Diawara Musical Performance
MACCA_Black _History_Month_Event
5) FSYR (Family Services of York Region)
6) Speakers Idol 2020